Build better video with Mux
Meet our team of video experts at re:Invent, November 28 to December 1, 2022, and learn how we can help you stream beautiful video to your viewers and improve your video experience.
Set up a time to chat with us or stop by booth #1248 in the expo hall. We're excited to talk about all things video and share what's new with Mux:
Real-Time Video — Build real-time communication into your app, leveraging the full Mux platform to stream your content live and play it back as VOD.
Mux Player — Improve Quality of Experience and get advanced out-of-the-box features (Chromecast, anyone?!) with our new open-source player.
Integrations with AWS products — Monitor your video Quality of Experience on Cloudfront, stream data using Kinesis, customize video streams with Personalize, and more!
Trusted by some pretty amazing brands:



More ways to connect at re:Invent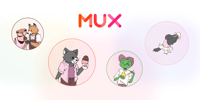 Gelato social - at the Mux booth: Wednesday, November 30, 1 PM – 5 PM
Meet us at our booth!